Home @ Frazer's is one of the longest established electrical specialists in Co. Armagh. Visitors to our store are able to view one of the most comprehensive ranges of domestic appliances and home entertainment systems in the area.
At Home @ Frazer's its about quality and design, the product, the finish, the service and ultimately the satisfaction of the customer. We supply and install all over Armagh and surrounding areas.
The two Marks, with over 40 years' combined experience in electrical retail, understand their customers' needs and excel in giving good honest impartial advice along with a highly personalised approach. Mark and the team offer a wealth of knowledge, excellent support and flexible delivery and installation services.
Please call in store and see if you can "Make a house a Home @ Frazers".
Opening hours:
Mon – Sat: 9:00am-5:30pm
Sunday: Closed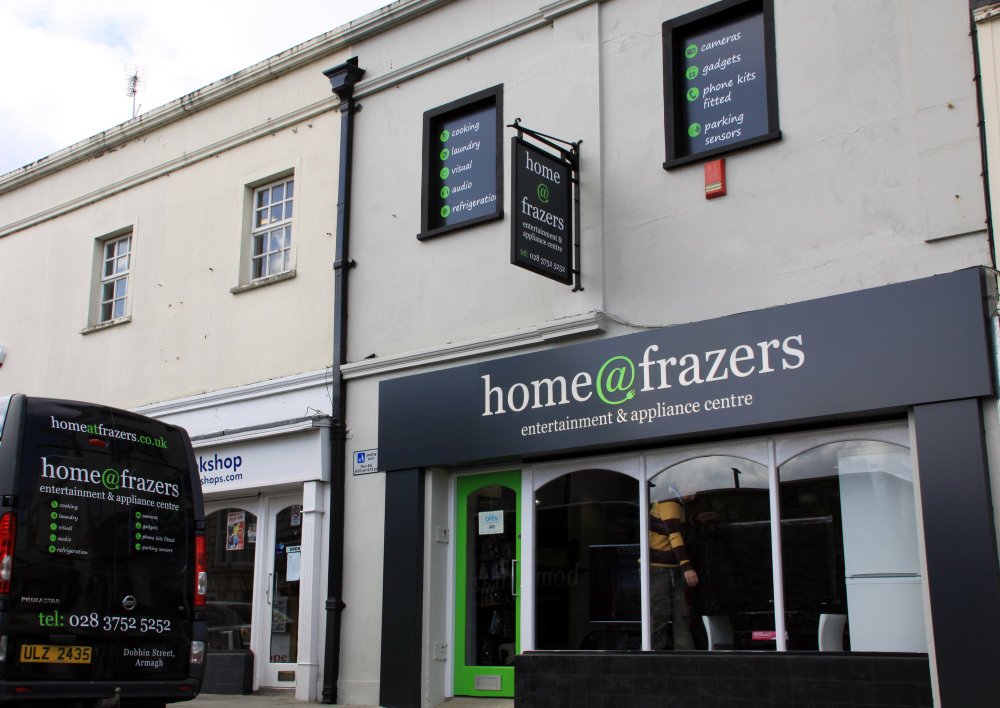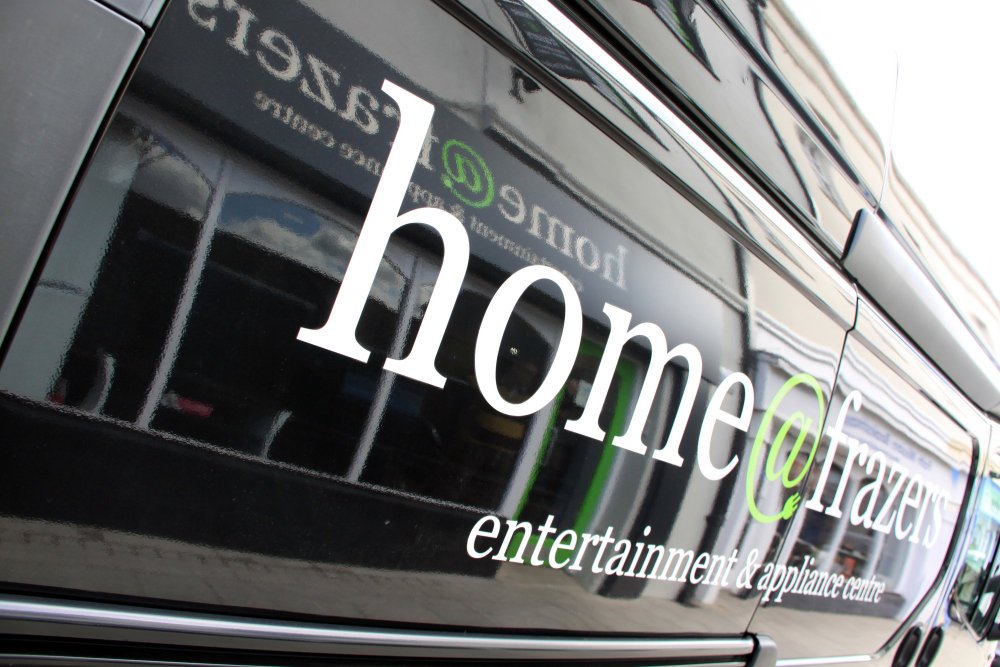 Home@Frazers provide:
Same day delivery at a time to suit you, free depending on location.

Professional Installation and fitting if required with product demonstration for any TV or appliance

Collection and recycling of TVs and large domestic appliance when you have your new product delivered

Commercial audio visual installations - including projection systems

Professional installation of car audio systems, hands free phone kits and parking sensors in any vehicle including heavy plant and agri

5 year warranty on selected products

Repair service available
Paddy Killen
THE 2 MARKS VERY HELPFULL GUYS
Sheila Campbell
Highly recommended great staff - shopping there for MANY YEARS
Darren Nicholl
Great place to shop the guys really know their stuff !!! Absolutely love my Audio Techica Turntable. Vinyl's back and sounds class on this Turntable
Great range of quality products. Delivered and installed in a friendly and very professional manner.
Mr. J LG 55" 4K Smart TV
With a young family, needed a new washing machine urgently! New Zanussi fitted within 24 hours. Wow!
Mrs. W Zanussi 8kg Washing Machine
Home at Frazers installed our new LG TV and Denon sound bar, very happy with the service and price ! Thanks to the 2 Mark's for all their help.
Jimmy Clarke LG TV and Denon Sound Bar
The privacy of your nonpublic personal information is important to us. We use safeguards to protect your privacy and confidentiality. We collect no data from you when you visit our website. We reserve the right, at any time, to add to, change, update or modify our privacy policy simply by posting such change, update or modification on the Website. Any such change, update or modification will be effective immediately upon posting on the Website.
Security
We maintain physical, electronic and procedural safeguards to guard your nonpublic personal information as best we can.
Personel Information
If you do nothing during your visit but browse through the Website and read the information contained on the Web pages, we will not collect any information whatsoever about your visit . We may collect nonpublic personal information from you when you voluntarily provide personally identifiable information to us through our Website. If you send an electronic mail (e-mail) message that includes personally identifiable information, for example, in an e-mail message containing an inquiry, we will use that information to respond to your inquiry.
Our Employees
Our employees may view information that you provide us with in order to perform their jobs and service you. We restrict access to nonpublic personal information about you to those employees who need to know that information in order to provide products or services to you. We do not share nonpublic personal information to third parties ever, this includes your e-mail address
Your E Mail
When you complete an order with us we will safely and securely store all of your information, including your email address. We never sell or rent our email database for any purpose whatsoever. We may contact you periodically to update our records or to inform you of new product ranges etc. Any email sent from us will have an unsubscribe option, which we will honour.